| | |
| --- | --- |
| Monroe Schools Facing Unknown Large Deficit | |
Tuesday, January 18, 2011 2:02:39 PM - Monroe Ohio
by John Beagle
Monroe Local Schools will have by some estimates, as much as $1 Million less income to operate on in the 2011-12 school year. However this cannot be confirmed by Monroe School Superintendent Libbie Lolli at this time. This despite the ongoing discussion about whether or not Monroe Athletic Director David Bauer will be out of a job due to his position being eliminated and the school being in panic mode regarding future jobs and programs.
Monroe School's is Not Alone
Other school districts in the area face even larger deficits. Lakota and Middletown both will have even more difficult decisions to make regarding budget and staff cuts in the upcoming school year. Lakota already cut busing for families living with 2 miles of the school district. Lakota Schools may have $4 million to cut from their budget according to a recent Cincinnati.com news story.
Here is what Dr. Lolli had to say about Monroe Local Schools 'possible' deficit:
"At this time, the board is considering how to meet a possible deficit. Kelley [Thorpe] and I have held discussions with the board about possibilities ONLY.

Each administrator is evaluated in December and if there is ANY chance that his/her job is cut or changed, he/she must be notified. That is all that occurred – discussion of possibilities.

The superintendent and treasurer cannot fully recommend SOLID cuts until we know what the state budget looks like and what our revenues are. We are at least 2 weeks or more away from that.

...nothing has been finalized or actually cut. There are however, people looking for new jobs in case the budget is severely cut. "
Will Monroe Have a Large Budget Shortfall?
Monroe School District Treasurer Kelley Thorpe filed this 2011-2012 Tax Budget report earlier this year. Treasurer Thorpe mentions HP 66 enacted in 2006 which reduces revenues in Ohio school districts. She said in the report, "Most of the reductions come from annual reductions in the tax rate of personal property taxes"
Also contained in the report is positive revenue news. "Duke Energy and Rockie's Express, Monroe had a significant increase in public utility values for 2010" as outlined by her graph below: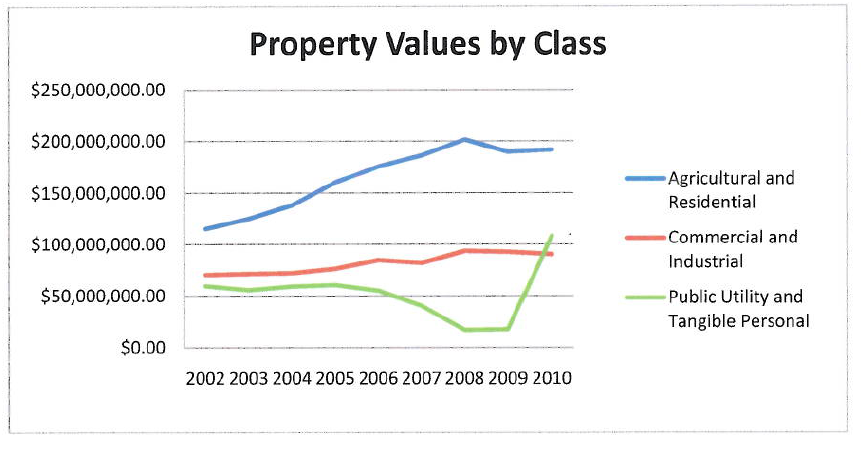 This could only mean significant on-going revenue increases in public utility tax revenue. Other reason why Monroe's budget shortfall may not be large comes from Ohio's new Governor Kasich. Kasich has introduced legislation to overturn many aspects of former Ohio Gov. Ted Strickland's plan for public education, including a mandate that districts offer all-day kindergarten for free.
What is the Monroe School District deficit going to be? Where is the 5 year plan or budget that shows a realistic revenue forecast? Looks like the school is keeping tight lipped about the forecast and the staffing adjustment plan. So for two more weeks, the taxpayers, parents, teachers and students are in limbo regarding the financial future of Monroe Local Schools.