| | |
| --- | --- |
| Monroe Spotlight: Jump Stop Safari | |
Monday, August 19, 2013 9:48:18 AM - Monroe Ohio
Jump Stop Safari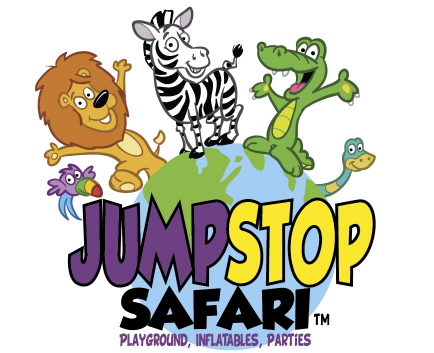 801 W. Main St. Lebanon, OH 45036

Phone: 513-228-0333
Email: info@jumpstopsafari.com
Monday.......1:00 pm - 4:00 pm - $8
Tuesday......Closed
Wednesday..3:00 pm - 6:00 pm - $7
Thursday.....1:00 pm - 4:00 pm - $8
Friday..........9:30 am - 12:30 am - $8
..................5:30 pm - 8:30 pm - $10
Saturday......9:00 am - Noon - $10
..................5:30 pm - 8:30 pm - $10
Sunday........Reservations Only
The Safari Themed Play Arena has a custom-designed, multi-level, padded play center that includes 2 enclosed slides, a glider, punching bags, rope course, climbing mats, and a hippo look-out!
The children's playground also has giant inflatables. The Alligator Bounce House sits inside the custom designed climbing center and is open at the top. Then, there is the awesome combo obstacle course and giant slide for kids over 36" tall.
The Cannonball Air Blaster Cage is the setting for a battle between zebra patterned cannons and tiger striped ones that shoot air powered soft balls at each other!
Located in Historic Lebanon, Ohio, Jump Stop Safari, a Mega Indoor Playground for children under age 12, is locally owned and operated.
Jump Stop Safari is conveniently located just minutes from I-75 and Monroe's Premium Outlets on Route 63. The green painted building sits back from Main Street near CarStar before entering scenic downtown Lebanon. It's just a few minutes West from Route 48.