| | |
| --- | --- |
| Monroe Spotlight: The Splattered Platter | |
Thursday, July 18, 2013 1:12:18 PM - Monroe Ohio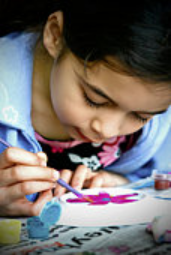 Phone: 513-423-2529 (CLAY)
Email: thesplatteredplatter@yahoo.com

The Splattered Platter is a paint it yourself pottery studio located inside the Towne Mall in Middletown, Ohio. They make over 85% of their pieces right in their studio! They would love to show how it's done so just ask for a tour while you're there! They have over 500 pieces to choose from in the studio. They try to carry as many pieces as they can so that the possibilities are endless! They offer parties for pottery, canvas, mosaics or wine glass painting.

The cost of a children's party is as follows:
$55 plus the price of the pieces they choose to paint. They range from $12.00 and up. Parents are welcome to stop in ahead of time to see the selection. There is a 6 child minimum with no maximum. In addition to the party, the parent can also choose to have a plate signed by each guest for a special person for an additional $14.00 (must be ordered a week in advance)
The cost of an adult party, girls night, and other parties are as follows:
Minimum 6 adults: $75 + the pieces you choose to paint. Add $5.00 each additional painter over 6 + the price of the pieces you choose.
You are encourage to schedule your party at least 2 weeks in advance.
Weekly activities:
TUESDAY IS KIDS NIGHT - $15 PER CHILD A DIFFERENT ACTIVITY EACH WEEK! CALL FOR INFO

WEDNESDAY IS BOGO STUDIO FEE - BUY ONE STUDIO FEE AT REGULAR PRICE AND GET HALF OFF THE SECOND PAINTER'S STUDIO FEE THE SAME DAY!

FRIDAY IS POTTERY AND PIZZA - PIZZA IS ON THE HOUSE FROM 6-8 PM EVERY FRIDAY EVENING. YOU BRING YOUR DRINKS OR PURCHASE BOTTLED WATER AT THE STUDIO.