| | |
| --- | --- |
| Monroe's new AD, Dave Bauer Interview | |
Wednesday, April 16, 2008 4:03:05 PM - Monroe Ohio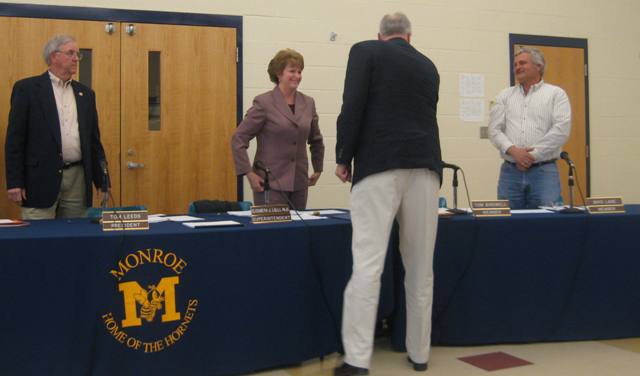 by John Beagle

David Bauer is Monroe Local Schools new Athletic Director. He will be replacing John Singleton who is retiring at the end of this school year.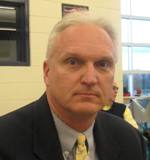 Mr. Bauer is still the Freshman Athletic Director at Fairfield until the end of the school year. He is a graduate of Hamilton Garfiedl High School in 1974, University of the Cumberland in 1978 (BS in Education) and Xavier University in 1985 with a Masters in Educational Administration. He was honored to be inducted into the Hamilton City Schools Athletic Hall of Fame in 2006.

John Beagle: What is your vision for Monroe Activities?

David Bauer: I am anxious to be able to get on board at Monroe and will work hard to try to continue the success they have enjoyed. I do know that Monroe has had a very good program over the last few years and a lot of that is due to a great senior class that is graduating this year.

In order to maintain that excellence we must provide opportunities for kids to begin playing at a young age and continue to grow and foster as they get older. Our coaches have to take a major interest in the youth programs and help any way possible.

Beagle: What type of Athletic Director will you be?

Bauer: I am a hands on type of person and will be very involved in all aspects of the athletic programs. I believe that all sports are important and they will be treated that way. I hope that my 30 years of experience, knowledge, achievements and success can be shared with the staff and be utilized by them. I can't wait to get started. In my opinion there are 6 Key Roles of an Athletic Director:

1. Be a leader of district. Maintain or increase athletic participation, achievements, and community involvement.
2. Provide support to all coaches, advisors and athletes so they can be as successful as possible.
3. Build and maintain a strong relationship between high school and middle school programs.
4. Build and maintain a strong relationship with staff and community in order to instill pride in our schools and athletes.
5. Require and stress the academics in the athlete's lives.
6. Provide environment that is conducive to successful athletics. This includes equipment, facilities, uniforms and transportation.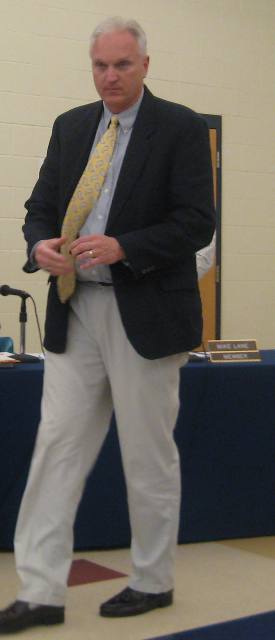 Beagle: What are the Areas you deem most important
Bauer:

1. Hiring and evaluation of coaches.
2. Instruction of athletes.
3. Services to needy students.
4. Safety of athletes.
5. School and community spirit.
6. Pride in school programs.
7. Involvement in athletic leagues.
8. Recognition of athletes.
9. Fund raising.
10. Attendance at games.
11. Booster club.
12. Professional growth of staff.
13. Athletic handbook.
14. Relationship with Middle School and High School.
15. Chain of command.
16. Maintain total programs.
17. College placements.
18. All sports trophy.
19. Positive relationship with officials.
20. Positive relationship with staff.
21. Positive relationship with community.
22. Positive relationship with O.H.S.A.A.
23. Academic improvement.
24. Interpret and enforce all rules of district.
25. Interpret and enforce all rules of O.H.S.A.A.

Dave Bauer is a resident of Fairfield with his wife, Mindy and their two children, Jay (16) and Kelcey (18).

History of Coach Bauer:
Dave began his coaching career at Ross, where he was a member of the coaching staff of the 1980 State Champion Basketball Team. He came to Fairfield in 1981 where he coached football and basketball and was a member of the coaching staff of the 1i986 State Champion Football Team. In 1995, he became head basketball coach and led the Indians to the Sectional Championships and District Final appearances in the 1996-97 and 1998-99 seasons. He retired from coaching in 2000.

Golfers note: Founded Ron Chasteen Memorial Golf Tournament. To date has raised over $75,000.00 and given over $20,000.00 in scholarships to Fairfield High School student athletes.

Please Welcome Dave to Monroe Local Schools with a post on the Voice.