| | |
| --- | --- |
| Monroe's New Senator Bill Coley | |
Thursday, May 26, 2011 9:21:06 AM - Monroe Ohio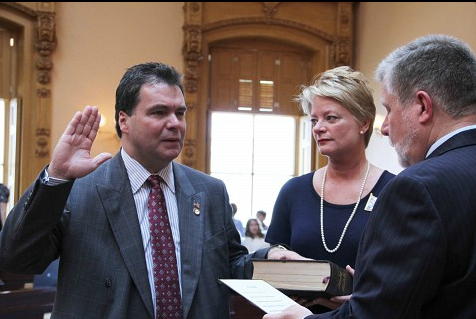 Photo: Senator Coley is sworn in as the state senator for the 4th Ohio Senate District.
by John Beagle
Our former senator Gary Cates was appointed by Governor Kasich and Chancellor Jim Petro to Senior Vice Chancellor of the Dividion
of Innovation and Enterprise Development at the Ohio Board of Regents. To fill that seat, two weeks ago an Ohio Senate Republican cacus screening committee met and reviewed Coley, State Rep. Tim Derickson of Hanover Township, Stuart Locke of Middletown and Mark Haverkos of West Chester Township. From that meeting Derickson and Coley were invited back for a second round of screening. A vote was taken the following Wednesday night, Coley received 134 votes and Derickson 110.
Coley's District Includes Monroe
Liberty Township Republican Bill Coley, with his wife of 25 years, Carolyn, at his side twas sworn in on Tuesday, May 24, 2011 by Senate President Tom Niehaus, Republican from New Richmond. Monroe, Ohio is in Senator Coley's 4th District, a district with about 330,000 residents,
Coley will serve on the Senate highways and transportation, health, human services and aging, and education committees.
Here is Senator Coley's contact information:
Phone: 614-466-8072
EMail: SD04@senate.state.oh.us
Coley vacated his 55th District Ohio Representative Seat. A screening committee is now reviewing potential replacements.
About our New Senator
Coley holds a bachelor's degree in finance from the University of Dayton and a law degree from the Cleveland Marshall College of Law. In addition to his work as a legislator, Senator Coley works as an attorney at the law firm of Strauss & Troy. He is also a private pilot. He is a member of the Ohio, Kentucky and Indiana Bar Associations. In addition he remains active in many community organizations including the Butler County Republican Party, St. John's Catholic Church, Sons of the American Legion and the Butler County Park Advisory Board.