| | |
| --- | --- |
| MSM taking business from Cox News | |
Thursday, August 2, 2007 2:43:45 PM - Monroe Ohio
Many people in Monroe are reporting that they no longer subscribe to Cox's local publication, the Middletown Journal. Instead they are getting news online. Places like Main Street Monroe and MiddletownUSA.com are up and coming.
Main Street Monroe provides local news from the city and school district as well as information from most local organizations.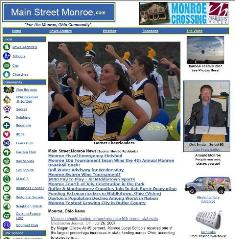 The website also features a wildly popular forum aptly named The Voice of Main Street Monroe.
"The Voice" Forum moderators include a city councilman, school board member and a few residents. You miss a day, you miss a lot when heated issues get debated here.
Often accidents are reported within minutes of the occurrence as well as local gossip on the local preacher, Lawrence Bishop and others.