| | |
| --- | --- |
| My Son Pinocchio Jr. Is a Whale of a Time | |
Friday, February 8, 2019 11:20:07 AM - Monroe Ohio
Disney's MY SON PINOCCHIO JR.
Playing at the Performing Arts Academy in Middletown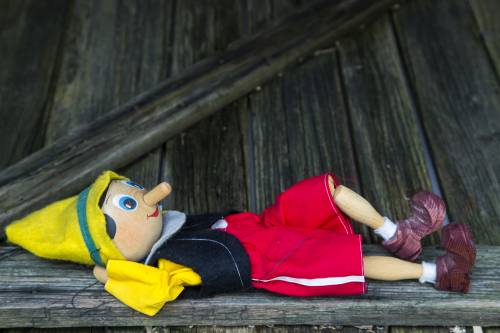 Disney's MY SON, PINOCCHIO JR. is playing at the Performing Arts Academy's Ben Bender Theatre at 4400 Lewis Street, Middletown, March 1, 2, 8 & 9 at 7:00 PM and March 3 & 10 at 3:00 PM. The musical is based on the made-for-television movie Geppetto with original music and lyrics by Stephen Schwartz and a few tunes from the 1940 Disney classic Pinocchio. The cast contains 27 students led by Nina Markle and Leah Busick.
In this twist on the traditional Pinocchio story, things don't work out exactly as expected. The Blue Fairy (Isabella Fiers, Homeschool) is convinced that she granted Geppetto's (Blaine Saunders, Madison) wish perfectly, but the toy maker is less than thrilled with his new son Pinocchio (Jenny LaRue, Homeschool). Geppetto tries to convince the Blue Fairy of Pinocchio's defects, and he begs her to take him back. The Blue Fairy refuses, but later agrees to give Pinocchio to a greedy puppeteer, Stromboli (Blaine Ferrell, Monroe), who wants the stringless puppet for his show. When Pinocchio saves them both from the mouth of a whale, Geppetto realizes he has grown to love his new son. Upon returning home, he is forced to convince Stromboli and the Blue Fairy that he deserves to keep Pinocchio.
Tickets are $14 adults and $10 Sr. Adults and Children and can be purchased at www.theperformingartsacadey.com and follow the Yapsody link. The Performing Arts Academy is located at 4400 Lewis Street, Middletown. 513-594-7242