| | |
| --- | --- |
| New Bocce Ball Courts at Otterbein Lebanon | |
Wednesday, August 15, 2012 9:03:17 AM - Monroe Ohio
By Rachel Colliver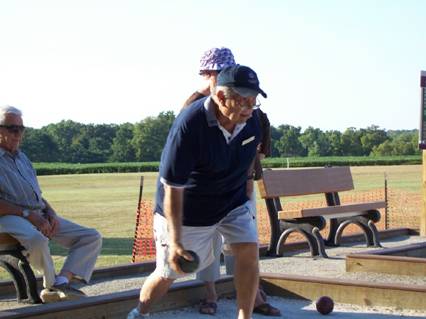 There's a new court at Otterbein Lebanon and it is for a game called bocce ball. This ancient game, whose modern adaptation most closely resembles bowling, requires skill, strategy and just a little luck. Bocce ball is a great game to play outside on a beautiful day. It is highly popular among seniors, but youths are sure to enjoy this accuracy game.
There are a thousand different rules and methods that vary depending on where you live. (ex: California rules versus Italy; New England versus Florida rules, etc.).
Otterbein's new courts are located on the west side of the pavilion. Residents can use the courts anytime on a first-come, first-serve basis except during league game times. League runs from August to the beginning of October. For August, league team games are on Tuesday evenings and Thursday mornings and open bocce, for all Otterbein residents, is available on Saturdays. Residents can still play open bocce any other day outside of Saturday as long as it does not overlap with the league team season. For September, league team games will be alternating on Fridays and Saturdays. (Saturdays – Sept. 1, 15 and 29; Fridays – Sept. 7 and 21.)
To learn more about Otterbein Senior Lifestyle Choices, please visit www.otterbein.org or call 1-888-513-9131.
About Otterbein Senior Lifestyle Choices
Otterbein Senior Lifestyle Choices, founded in 1912, is a non-profit health and human service ministry, serving nearly 3,000 people, and is related to the East Ohio and West Ohio Conferences of the United Methodist Church. Otterbein has five full-service retirement communities, five skilled nursing and rehabilitation neighborhoods and a home health agency.