| | |
| --- | --- |
| ODE Puts Monroe Local Schools in Fiscal Caution | |
Thursday, September 29, 2011 10:47:27 AM - Monroe Ohio
Fiscal Watch: 8% Year End Deficit
Fiscal Emergency: 15% Year End Deficit
Monroe: 8.75 Year End Deficit Projected
by John Beagle
Roger Hardin, Ohio Department of Education, started his talk out with, "unfortunately we are here with not a good message." Mr. Hardin went on to explain the difference in the financial plans provided by the state to assist Ohio public schools back to fiscal stability. He started his presentation with this new information, "About a month ago we received a call with questions about your finances. So it's our protocol to first come in and do a financial analysis of the district."
"...it's our protocol to first come in and do a financial analysis of the district." Roger Hardin, ODE
According to Mr. Harding, a fiscal watch will be declared when a school district is in an 8 percent deficit and a fiscal emergency is when a school district is 15 percent or worse. A deficit is measured by a school district's end of year balance divided into the revenue stream. The deficit for example would be 2% if a school district had a $10 million revenue stream and a $200 thousand deficit.
Monroe's projected deficit for this school year is NEGATIVE $1.542 million, not the $74 thousand projected by earlier by then MLS Treasurer, Kelley Thorpe. The school district is projecting revenues of $17.6 Million, therefore, the projected deficit for MLS 2012 school year would be 8.75 percent. By Ohio Department of Education definition, Monroe Local Schools would be in Fiscal Watch.
Flashback: May 24, 2011, Monroe News reports that the Monroe School District will deficit spend starting in 2012 and will become insolvent by 2014 if major financial adjustments are not made. The community was kept in the dark regarding school finances from May 24 until September 27, when Hardin and Dean reported their findings.

In the report presented by School Treasurer Kelley Thorpe, the Five Year Forecast of the General Fund shows the cash position holding relatively unchanged from the previous year for 2010-2011.

Contained in her report was this statement of responsibility: "The Auditor of State's Office and the Department of Education have designed the format of this projection. Responsibility for the preparation of the projection and the accuracy of reasonableness of the assumptions on which these projections are based rests with the Monroe Local School District administration and the Monroe Board of Education."
Here the revised forecast for 2012 and 2013 school years as prepared by Dean Horton, ODE: Monroe Local Schools 2012-2013 Forecast -SM5
From the report new projections are compared with previous projections:
The graph below contrasts the original forecast from the MLS Treasurer Kelley Thorpe with the revised version by Mr. Dean Horton. It was this revision that caused the school to be recognized as a district that fits the criteria for fiscal caution. Unless major sources of revenue and/or sources of cost cuts are found, Monroe Local Schools likely will be put into fiscal watch in January of 2012.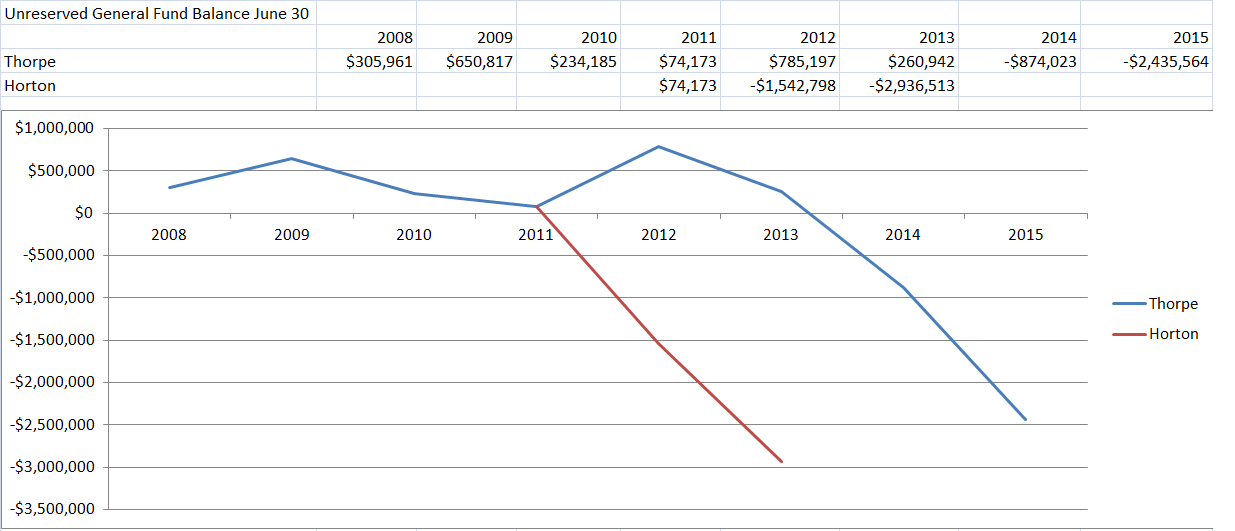 Discuss it on the Voice: Monroe Schools to Begin Fiscal Caution