| | |
| --- | --- |
| Radio Shack closing Brieil Location | |
Friday, May 12, 2006 9:46:16 AM - Monroe Ohio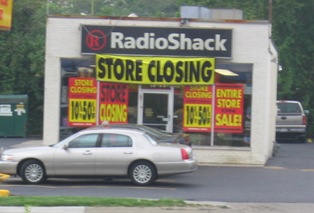 This Radio Shack is closing in Middletown, Ohio on Breiel Boulevard. Not just in Middletown, Radio Shack is closing 700 stores nationwide.
Radio Shack Closing Many Non-Mall Stores
Knoxville News Sentinel (subscription), TN - May 7, 2006
I stopped in and talked to the guys there. They were told that Radio Shack was closing non-mall stores that were close to a mall with a Radio Shack. ...

RADIO SHACK CLOSURES
KRDO, CO - May 10, 2006
... News 13 has learned that Radio Shack is closing three of its 16 locations in Colorado Springs. These include the Radio Shack at ...

Radio Shack announces local store closings
Bizjournals.com, NC - May 9, 2006
Four Radio Shack locations in the Albany, NY, region are among 480 that the company is closing under previously announced plans by the electronics retailer to ...

Moorhead, GF Radio Shack stores closing
In-Forum (subscription), ND - May 4, 2006
They are among about 480 stores that Radio Shack Corporation is closing nationwide as part of a company turnaround plan announced in February, said Jessica ...