| | |
| --- | --- |
| School Superintendent Reflects on 1st Year at Monroe | |
Thursday, January 15, 2009 4:54:51 PM - Monroe Ohio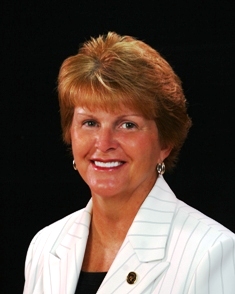 Photo: Monroe Superintendent Elizabeth Lolli

by John Beagle
Almost 100 were on hand last year to welcome Dr. Elizabeth Lolli, 52, Monroe's new superintendent. Her start date was January 3, 2008. Dr. Lolli replaced Arnol Elam, who was Monroe Local School's first superintendent.
She was awarded a four-year contract, which terminates on July 31, 2012. The Monroe school district pays her $112,000 a year.
Now, a year later, I asked her about her first year in Monroe.
Beagle: What is your general feeling regarding your first year at Monroe?
Lolli: My first year in Monroe went by very quickly.
Beagle: What would you say were some of your major accomplishments?
Lolli: Some major accomplishments include:
Reconnection to the Ohio Schools Facilities Commission
Renovations to Primary including roof, new kitchen
Balancing of the building sizes and classroom loads
Implementation of the new reading framework and the new math series
Monetary savings made when a variety of changes were made this spring
Beagle: What are your biggest challenges?
Lolli: Our biggest challenges all center around the economy. In the next several months we have emergency levies that must be renewed to continue operating the district. Eventually, we will need some type of levy for facilities. With the economy as it is, these issues are even more difficult than normal.
The two biggest challenges the district faces are money and facilities.
Beagle: What do you like most about being the Monroe Superintendent?
Lolli: As superintendent, one is involved in all aspects of a school system. I truly enjoy all of the work. However, my favorite part is being around the students and watching their successes. I am able to see successes in the classroom, with individual students at a variety of school events, and during sporting events.
Related news:

Nov 21, 2007 ... Almost 100 were on hand to welcome Dr. Elizabeth Lolli, 51, Monroe's new superintendent beginning January 3, 2008. ...

Oct 18, 2007 ... Elizabeth Lolli* of Stow, superintendent of the Barberton City ...Superintendent Elizabeth Lolli said attendance at the open house is not ..

He was Monroe Local School's first and only Superintendent until January of this year whenElizabeth Lolli took over as superintent. ...