| | |
| --- | --- |
| September Public Works Department Report | |
Monday, October 29, 2012 5:11:36 PM - Monroe Ohio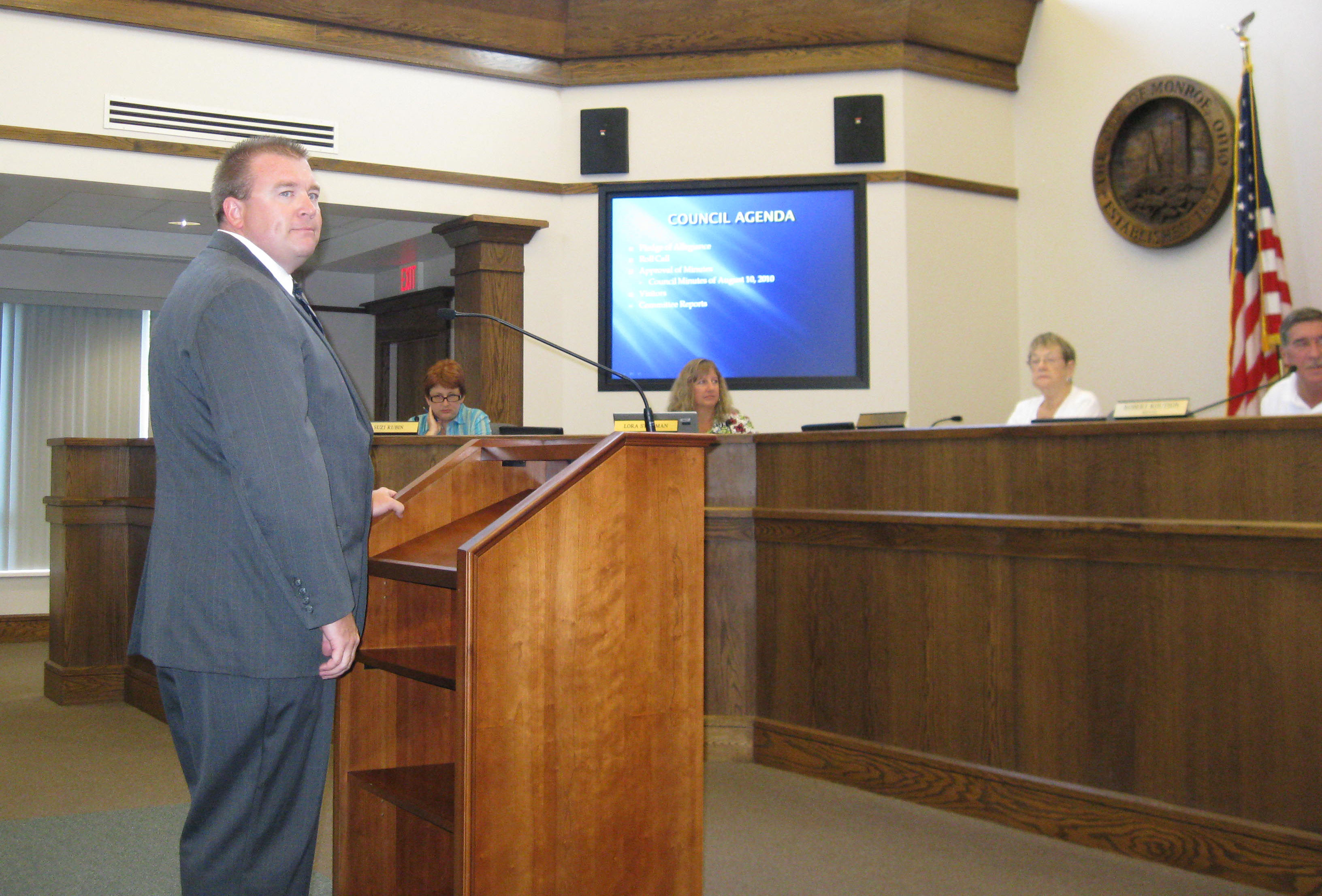 by Daniel J. Arthur, P.E., Director of Public Works
During the month of September the Public Works Department was involved with the following
major activities:
Projects - Construction of the East Avenue Access Modifications project began this month. All
of the underground utilities were installed. The base course of asphalt was installed and the
concrete was poured for the channelizing median. All of the construction except the traffic
signage support structures should be completed by the end of October. Since the traffic signage
supports have such a long lead time, ODOT approved opening the access lane prior to installing
the supports if proper temporary signage is erected. The project completion date was set for next
spring due to this lead time. However, the contractor is optimistic that he will receive the
supports and be able to finish the project by the end of the year.
The Todhunter Road Reconstruction and Widening project began this month. The contractor got
things going right away and all of the water main for the project was installed. They began
excavating the topsoil on the widening side of the project and installing the stone base. The
smaller storm pipes have been installed and the large storm culvert is scheduled to be installed in
October. The Full Depth Reclamation process for the street improvements should begin in early
November.
Work continued on the interchange beautification project. The contractor began installing the
trees and plantings in the landscape areas this month. The contractor completed the fence
improvements and finished installed the canopies on the tower structures. This project is
scheduled to be completed by the end of October with a one year establishment period to assure
that the trees and plantings are going to live.
The 2012 Pavement Rehabilitation project was completed this month. The contractor swept all
of the improved streets to remove any loose debris and a walk-through of the project was
conducted. Problems that occurred during construction will be repaired by the contractor prior to
acceptance by the City.
Water - The meter reading transmitter replacement project continued this month. Well over half
of the transmitters have been changed out. We are on target to meet our goal of completing the
project by the end of the year. Training on the software changes is scheduled for mid-October
and we are anticipating being able to read the meters automatically using the fixed base system
for the November meter reading cycle.