| | |
| --- | --- |
| Sheriff: Stop the Butler County Illegal Aliens | |
Tuesday, October 23, 2007 4:34:54 PM - Monroe Ohio
by John Beagle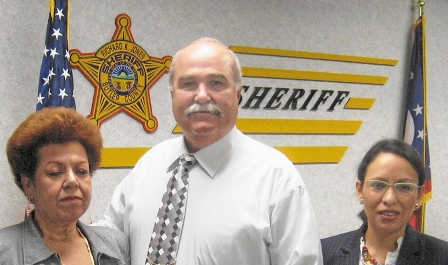 Photo: Sheriff Jones with Consulates of Mexico Lorena Alvardo and Elsa Villa.

Despite making nice with the Consulates from Mexico, Sheriff Jones is not letting up on his stance toward illegals in Butler County. Last month the outspoken sheriff had this to say about "breaking up families" by arresting illegal aliens, "The recent arrests that some are apparently so upset about are absolutely no different than those of US citizens who commit crimes and are in my jail. They too have family situations and I don't hear any crying from their families or any others!"
When Congress and the Senate were unable to agree on legislation addressing the problem of illegal immigration, Sheriff Jones had this to say,"I feel it's safe to assume there will probably not be any legislation until after the 2008 elections; if any legislation is created at all. Until our borders are sealed nothing will work."