| | |
| --- | --- |
| The Monroe Family Pet Hospital | |
Monday, November 5, 2007 2:22:41 PM - Monroe Ohio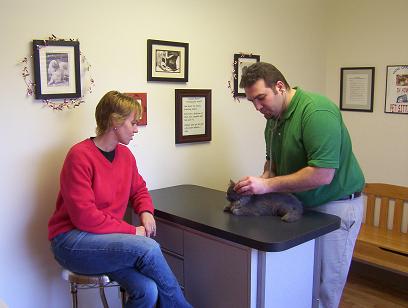 by John Beagle
All About Pet Care is expanding to Monroe with a new veterinary hospital. The Monroe Family Pet Hospital will be a small animal veterinary hospital and will be located near Krogers, and Buffalo Wings and Rings.
Drs. Matthew J Heller and Jason P Tarabrella utilize the latest, advanced veterinary medicine. The Monroe Family Pet Hospital is under construction and will open some time in January 2008.
Dr. Heller is a Pennsylvania native and received a Bachelorís in Science (Cum Laude) from Albright College in Reading, Pennsylvania. He obtained a dual graduate degree from The Ohio State University - a Doctorate of Veterinary Medicine and a Masters of Science in Veterinary Pathobiology.
Dr. Tarabrella is a 1999 Graduate of The Ohio State University College of Veterinary Medicine. He has been practicing veterinary medicine for 6 years. Most recently, Dr. Tarabrella practiced at Oak Pointe Veterinary Care in Dover, Ohio. Despite enjoying his job immensely and having to leave behind many great clients, patients, and staff, he could not pass up the opportunity to practice with his long time friend, Dr. Heller.
Prescription Drug and Premium Pet Food Program
Hills Science Diet, Royal Canin, and Purina and premium pet foods, Natures Variety. Also pet accessories will be available at the Monroe Family Pet Hospital.
Same Day Appointments and After Hour Emergency Services
If your pet is seriously ill, Monroe Family Pet Hospital will provide after hours services as well as same day appointments for all emergencies.
The Holistic Medical Option
Dr. Heller also practices integrative medicine which combines conventional western veterinary medicine and holistic medicine. Holistic veterinary medicine considers the whole animal, not just the physical signs. The pet's physical and mental state as well diet, exercise, life-style and environmental influences are important factors. The types of holistic care offered by Dr. Heller include acupuncture, nutritional counseling, supplements, herbal remedies, and homeopathy.
Pet Medical Services available to Monroe Residents
1. Examination/consultation on dogs, cats, birds and reptiles and pocket pets.
2. Preventive Care including vaccinations, heartworm prevention, flea & tick prevention/control, deworming, nutrition and dental hygiene.
3. Dental procedures including cleaning, polishing and extractions
4. Routine and advanced surgical procedures, including spaying, neutering, declawing, orthopedic surgeries, etc. Laser surgery is available.
5. Acupuncture.
6. Homeopathy.
7. Nutritional Counseling.
Contact Information:
Monroe Family Pet Hospital
3211 Heritage Green Drive
Monroe, OH 45050
(Located off I-63 by Krogers)
513-539-8737
Additional information obtained from All About PetCare website.