| | |
| --- | --- |
| The Monroe PTO Wants Your Favorite Recipe | |
Saturday, March 24, 2012 12:39:38 PM - Monroe Ohio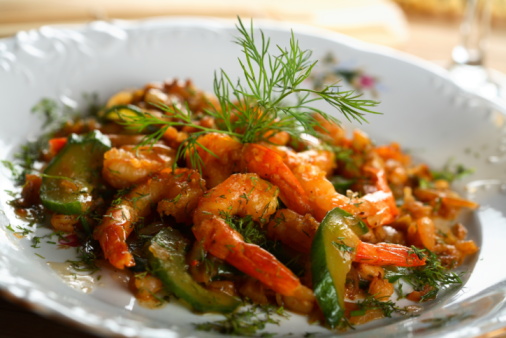 Photo: Shrimp with oven vegetables
What's your best recipe?
by Ron Tubbs

Will you share with the Monroe, Ohio community?

The Monroe Primary and Monroe Elementary School PTOs are working together on the Monroe Hornet Cookbook. We are asking each child to send in one(1) or more of their favorite recipes to compile as a cookbook. Feel free to send in Mom's, Grandma's, Dad's, Grandpa's, Aunt's, Uncle's, etc. recipes.
The more recipes we get the better the cookbook will be. Please make sure each recipe is legibly written on the attached form. If you send in more than one(1) recipe, please use a separate sheet of paper for each recipe. We will be having a contest for the class that sends in the most usable recipes. There will be one(1) winning class from each building.
The winning class will receive an ice cream party. All recipes must be submitted to their school by April 20. Cookbooks will be available in the fall of 2012. The cost for each cookbook will be $15. Also, we will be offering sponsorships for $25 each to help offset the cost. For each sponsorship, one(1) cookbook will be given to you for free. Please make checks payable to Monroe PTO. You can send your recipes in with your student or if you don't have a student in the school, you can drop your recipes off at the Monroe Primary or Monroe Elementary offices or mail the recipe to:

Monroe Elementary School
230 Yankee Rd.,
Monroe, OH 45050.

If you have any questions, please feel free to contact Gina Miltenberger at 513.623.0874.

Thank you in advance for your support.
The Monroe Primary and Monroe Elementary PTOs
PTO cookbook1.pdf
PTO cookbook2.pdf
Share your favorite recipe on The Voice