| | |
| --- | --- |
| "We Look Good!" - Monroe Hornet FB Coach Meibs | |
Thursday, July 17, 2008 9:57:50 AM - Monroe Ohio


by John Beagle

Since losing our winningest head football coach, Jason Krause to Middletown, every football parent is anxious, curious and very interested.

Colrain's Ken Meibers, who likes to be called 'meibs,' became the new head coach for the Monroe Hornets this past May.

I asked Meibs, how the team looked. He said, "We look good. We will be very intense."

Practice begins at 7:30 am. The team gets a 1 hour break at ten am, then they are back out till 1:30 in the afternoon. Sometimes longer.

According to Coach Meibs, "

We will be using a multiple triple option offense. This means that nearly every play will have some type of "read" or unblocked player that will determine who runs the ball. We want to control the clock and shorten games. This put tons of pressure on the opponent's offense to score quickly because they will have fewer possessions with the ball. On defense we will be stressing aggresive attitude, and speed. The fastest players on the team will be playing some type of defensive position. We will using multiple blitz packages to bring pressure.

"

Stu Wilson, last years Athletic Traininer of the Year, had this to say today, "Our new coaching staff are terrific. They are so positive in everything they do."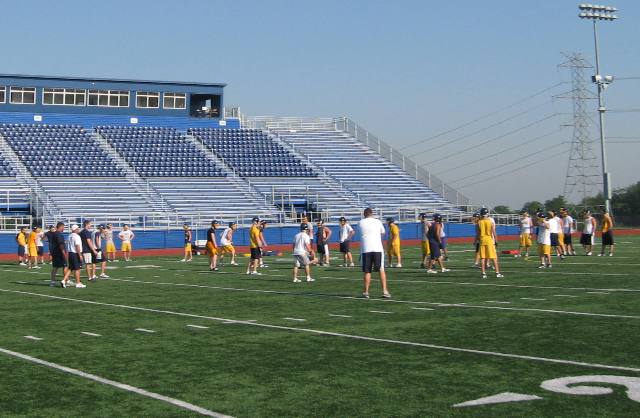 Monroe Hornet Football Practice July 2008