| | |
| --- | --- |
| Year Round Schools for Monroe | |
Tuesday, March 18, 2008 2:09:00 PM - Monroe Ohio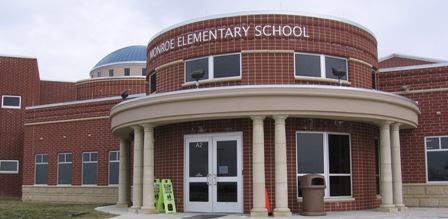 by Tom Birdwell
It is clear to me that the voters of Monroe simply don't want their taxes increased. It is equally clear that our school district absolutely must increase its physical capacity, in order to meet the needs of an ever growing student population.
There seems only one option to meet the facility requirements of our growing student population, and yet still not require a large bond issue to be passed. That is to implement year-round schools.
Accordingly, I will be working to implement this approach in Monroe. There are many many versions of "year-round" schools, but I am referring to operating the buildings year round, with 1/4th of our students out of school at any given time. This increases our physical capacity by 25%, without passing a bond issue.
For this to work, students would have to be divided into four groups. During any given season, one group would be out of school. Yes, that means 1/4th of our students would be out of school in fall, winter, spring, and summer. But this is the only approach that adds capacity without spending large amounts of money to add classrooms.
I don't really like this solution, as it will literally wreak havoc on the traditional family summer vacation concept. But it is the only way I know of to increase our school's capacity without passing a bond issue. The voters have spoken, loudly, on their willingness to do so. I will work to meet their decision.
I am serious in believing this is the path for us. I see several believe I am being negative, but I am pretty positive about it after giving it a lot of thought. Here is why.
1) People have made it very clear that they can't afford a tax increase in this economy. We already are going to have to have some sort of one just to meet the operations budget with increasing enrollment. I don't know how much, or when, but it has to happen. I just can't see putting another bond issue up till the economy improves. And we will not see any significant increase in business taxes for many years. And if the choice becomes year round schools, or increasing student teacher ratios beyond today's level because of budget constraints, I have to go with it.
2) We have and are continuing to see strong enrollment growth. Even is nobody else moves in, there is a heck of a crop of pre kindergarden aged kids that we will have to house and educate. Nobody else has to move to Monroe for our enrollment to continue to increase.
3) A large number of people have demanded that the old high school be torn down. I certainly can't see the logic in spending considerable money to refurbish or upgrade it. I would rather wait for when we can pass a bond issue.
There is one, and only one alternative that meets these three constraints. That is using our facilities year round, and taking advantage of the 25% "free" increase in capacity it will bring.

Discuss Year Round Schools