Achieved School News

Monroe's First School Bus
Monroe Local Schools Regular School Board Meeting
A meeting of the Monroe Local School Board was held Tuesday, September 05, 2000 at 7 p.m. in the junior high/high school media center.

First on the agenda was the treasurer's report. The new treasurer brought the board up to date as far as the district's financial status as of July, 2000. The district started with a balance of $350,000. $340,000 in real estate taxes was received toward the August 2000 settlement. $391,756 was received of state foundation money. $140, 221 has been received in other state revenue. Expenditures are relatively small so far due to the newness of the district and the beginning of the school year. They are as follows: salary-$12,137, fringe benefits-$1239, purchases-$23,574, supplies-$725, capital outlay (phones and computers)$25,442, miscellaneous-$7000.

Mr. Elam continued the meeting with several recommendations for employment. They are as follows: Judy Lavash-school nurse Ms. Lavash graduated from Wright State and Jewish Hospital school of nursing, is coming from Lakota Schools and will be hired at a salary of $33,000. Robert Holzman-school psychologist Mr. Holzman will be consultant at an hourly rate on an as needed basis. Deanna Akney-1/2 day tutor, Dave Donohue-full day tutor, Sherri Beckett-food service, Jane Majors-food service, and Rita Tannreuther-substitute accounting clerk and payroll administrator.

Steve Campbell reported on facilities. The modular units and decking at the elementary school will be completed (weather permitting) by this weekend. Restrooms for the modulars should be completed by the end of next week. Communications wiring is in place at the elementary and high school. Landscaping has been done by volunteers at the high school and elementary school. 300 panes of glass still need to be replaced at the high school. The third floor restroom still needs to be repaired in the junior high/high school. The administration building should be ready by beginning to mid-October. ADA permits should be received by the end of the week and once the work is started should be completed within 2 ½ weeks. Mr. Elam stated that the board will begin a facilities study for both buildings and a feasibility study for repairs and improvements needed. Mr. Campbell also reported that due to a recent concern about failure of school bus brakes, two of our school busses were inspected and found in compliance with safety standards.

Patti Shull, elementary school principal, spoke about the beginning of the school year at the elementary. There are now 627 students attending Monroe Elementary as of today. Bussing problems due to new routes and the large number of busses is being improved. Dismissal on the first day took approximately 40 minutes and is down to about 12 minutes at present. She thanked the many volunteers and teachers who put in long hours of hard work to get the school ready for the students.

Robert Amodio, junior high/high principal, then talked about the first days in his building. He said that he had a basic plan for the first day for each student to have "a schedule, a locker, and a textbook" and all of these things happened. The halls are clean and quiet and the teachers and students are excited and happy. Jon Payne reported on extra-curriculars. All head coaching positions are expected to be recommended by the next meeting. The junior high school football team has its own locker room under the stadium. All fall sports are up and running and the practice and playing fields and gyms are busy Monday through Saturday.

Dr. Wilson, curriculum director, then reported on her progress. She plans to start an advisory committee of parents, teachers and community members to discuss direction for the gifted program in Monroe Local Schools. State requirements are that gifted students must be identified in grades K-12. As of this year, our school will be servicing those identified in fourth through sixth grades. She hopes to use the state required testing to identify the gifted as well as weak and strong areas of learning. This will help determine the district's course of study. She has also put into place an entry year teacher program and has signed up mentors for those teachers.

Suzi Rubin will be the media contact for the school district.

Mr. Elam will probably be recommending hiring a maintenance person to care for plumbing, electrical, carpentry and boiler repairs for the district that cannot be handled by the custodial staff.

Food service seems to be running smoothly.

Mr. Elam recommended that the two different forms necessary for prescription medication and over-the-counter medication dispensation to students be consolidated into one form requiring a doctor's signature in both cases. The school nurse will be present at the next board meeting to answer health related questions.

There being no further business the meeting was adjourned.
---
Arnol Elam is the New Monroe School Superintendent
June 1, 2000 PRESS RELEASE

from the

Butler County Educational Service Center,

Dan Hare, Superintendent

. On June 5, 2000 the Monroe Local School Board will take action to employ Mr. Arnol Elam as Superintendent of the Monroe Local School District.

Action will be taken during the regular meeting of the Board of Education to be held at 7:00 p.m. in the Monroe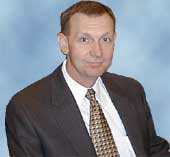 City Building located at 233 S. Main Street.

A reception for Mr. Elam will follow Board action.

Staff and community are invited to attend the reception in the community room and welcome Mr. Elam to the Monroe Local School District. Mr. Elam is presently serving as the Assistant Superintendent of the Reading City School District.

He served as an Assistant Principal and Principal in Reading from 1991 to 1998 when he was named Assistant Superintendent.

Prior to employment in Reading, Mr. Elam served as a teacher in Lakota and Madison. Mr. Elam was one of eleven applicants who applied for the position.

He brings a background that includes leadership skills, community relation skills and a track record for improving student achievement.

Photo: Arnol Elam 1978 Head Coach Madison High School Baseball.
---
New Treasurer Named
July 27, 2000 - Nancy Weisberg was named Treasurer of the Monroe School district in a meeting last night. We will update this article with her photo and bio later this week.

On another note: New Monroe High School principals will be interviewed tonight.
---
New Construction To Begin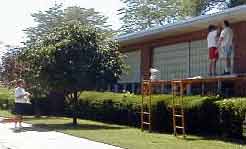 New construction will begin on the modular units next week. The first unit should be completed by July 27. Fifth and sixth grade classes will be held in the modular units as well as library and art. The desks and chairs have arrived from Amanda and are being stored in the gym until the new classrooms are ready. The classrooms inside the school and the exterior of the school building are being painted and are nearly done!
---
New Teachers Hired
Several new teachers have been hired for the 2000-01 school year because of increased enrollment. All teachers presently at Monroe Elementary will return with the exception of Mrs. Wathel, who retired and Mrs. Raszka, who is transferring to Middletown. The new teachers are as follows: First Grade-Jennifer Dalton, Second Grade-Bethlea Pieratt, Third Grade-Susan Conrad, Fourth Grade-Robin Rogers, Fifth Grade-David White, Sixth Grade-Patti Keith, Nancy Lintzenich, Darlene Richey, and Rhonda Williams.
---
It's Official-

The Monroe School District on March 7, 2000...
...became a reality today after winning by a 3 to 1 margin. Next step, the Ohio State School Board has to appoint the Monroe School Board at their next meeting on April 10th. Until then, the proposed board will have limited power and authority.
FYI, The Ohio State School Board met today and made no decision regarding the appointment of a Monroe School board. This was despite the efforts of Mary Pritchard and others today. There was no time for unscheduled business at today's meeting.

---
Help Wanted: Superintendent and Treasurer
March 21, 2000- Parents met Dan Hare, the Butler County Education Superintendent at 7pm tonight to discuss the hiring of both a Superintendent and Treasurer for the newly formed school district. The meeting was held in the council chambers at the Monroe City Building and lasted 1 hour and 40 minutes. Parents were urged to attend these meetings so their opinions and concerns can be taken into account. (More)


---
16 Apply for Monroe School Board
March 27, 2000 Sixteen people have applied for the newly formed Monroe School Board. The people who applied are John Birch, Tom Birdwell, Carol Brotherton, Julie Bruemmer, Steven Campbell, Roger L. Enchelmeyer, William R. Heflin, Seth Johnston, Thomas Jutte, Donald Langworthy, Donna Oakley, Jamie Pierce, Suzi Rubin, Steven Tannreuther, Michael Welsh and Fred Wooten.
---
Monroe PTO invites Amanda Parents
Doreen Harrington PTO President has invited the parents from neighboring elementary schools. Per Doreen Harrington's email, "We would also like to invite the parents from Amanda and Central Academy to these <PTO> meetings. Our next meeting is on Tuesday April 18, 2000. For additional information contact Doreen Harrington at 539-4528".
The new school district will be officially declared on July 1, 2000. Special Thanks to the various Committee Members

---

New School Information by: Suzi Rubin
On September 14, 1999, the State Board of Education voted to allow Monroe citizens to form a new school district. If a majority of the residents of the proposed new district vote in favor of establishing a Monroe district in the March 2000 primary election, the new district will be created on or before July 1, 2000.
Map
The proposed district includes all of Monroe City, except the area currently in the Lakota School District. The portions of Lemon Township south of Monroe's northern border are included in the new district. Areas currently in the Lebanon
School District that are within Monroe's corporate limits are also included in the new district.
The New Monroe School District

Committees
Several committees have been created to aid in the formation of the new district. Committees are working to provide an accurate picture of what the district would look like, in order to allow voters to make an informed choice in March. These committees are also working very hard to ensure a smooth transition for students and teachers if the Monroe district is approved by voters.
The Committee pages contain information about the committee's tasks, as well as minutes from meetings as they become available.
Schedule of meetings
Click on Schedule of meetings: a listing of meeting dates for the various committees. Most committees meet at the City Building in Monroe, 233 South Main Street. Meetings are open to the public, and residents are encouraged to attend to learn more about the proposed district.
Forum
Please join our forum and share your opinions with us!

Alumni
The Marching Band and Alumni of Monroe High School have their own website, including updates on everything going on in the Band. All are welcome!
---
To the Editor;

A lot has been written in the past few months concerning the upcoming formation of a Monroe school district. The Journal has at least twice challenged the appropriateness of Ms Carol Brotherton concurrently serving on the Middletown/Monroe School Board and the proposed Monroe Board. You have taken the position that she can't represent both sides fairly and should resign from one of them. While I will leave it to the reader to make judgment of Ms Brotherton's position on issues and of her performance, I think the Journal is in significant error in claiming that one can't represent the needs of both cities.

Residents of Monroe are citizens of the Middletown/Monroe School District. As such, we don't have one representative on the School Board; instead we have five. Until the day this District is officially split, we expect and deserve representation from all members of the Board, and from the District's administration. They control funding, direct curriculum, hire teaches, renew contracts, and perform maintenance in all our District's schools. The Journal argues that since Ms. Brotherton will be on the future Monroe Board she can't fairly represent the needs of the combined district, and will favor Monroe in her decisions. Extending that same logic leads one to conclude that the other four Board members, who will all be members of the future Middletown Board, will favor Middletown. If Ms. Brotherton should resign from the current Board because of a conflict of interest, then so should the other four members. Does the Journal intend to ask for this?

Despite the voiced desire of Monroe to have its own district, there is still a chance that the division will not be approved in March. Either way, Monroe deserves fair representation from the combined district until we are no longer part of it. During the past three years, serving on various school teams and committees, I have had the opportunity to meet and work with all five members of our school board and the district's senior administrative leadership. I am convinced that they can and will rise above parochialism and fairly represent the needs of both communities. Now I ask this, can the Middletown <bleep>l?
Tom Birdwell
Tom Birdwell